RTC – MOD-01 – Pt.08 – Ops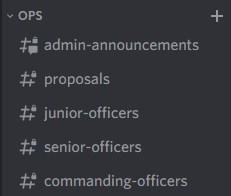 The OPS or Operations channels are primarily for discussing the day to day running of the group to make sure everything behind the scenes is running smoothly. You will unlikely ever have access to all these channels, but if and when you progress through in your time with us, you may get involved in more and more activities that require access to them.
Announcements unlike the previous announcements channel which was restricted to only talk about upcoming missions and campaigns, this announcements channel is restricted to group matters only. Such as new skins available, updates to orders or votes. This channel should not be used for general discussion. Questions or comments about an announcement should be done in another, more suitable channel.
Proposals here is where we encourage all members of the group to give us their ideas on how we can do things better. We don't pretend to have all the answers, nor do we think we run things in the best way possible, so this is you opportunity to make a suggestion on how things can be better (new software to use, changes in briefing practices, new ways or organising the group). As discussed in orders, the lead group will discuss the idea in depth (and I mean in depth) maybe ask for more information from the member who proposed it. Then if the idea is worth merit, it will go out into a community wide vote to potentially be enacted. If it fails for some reason, the lead group will explain in detail why it failed to gain traction.
Junior Officers here member related information is passed, information that is not relevant to anyone else in the DISCORD.
Senior Officers in this channel the lead group will discuss more high level details about the running of the group, discuss proposals and just ensure the group is running smoothly!
Server Admin as some of our members are responsible for hosting servers (DCS, SRS, LotATC etc.) they will discuss here updates to them and when to schedule them. this ensures all our members are running the correct versions of the software.